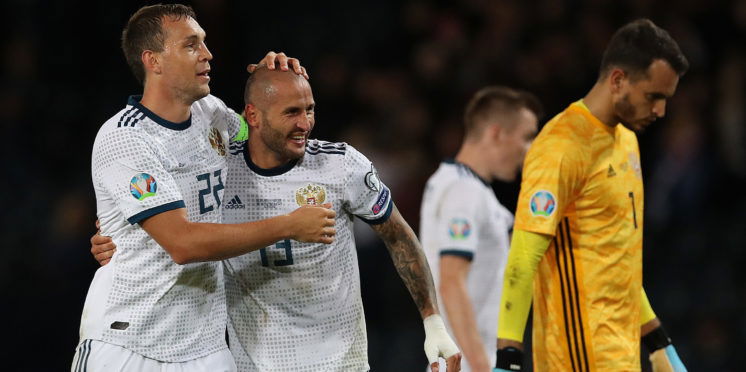 Why Palace need to sign Artem Dzyuba
When it comes to Crystal Palace's transfer business, there's a new Russian striker target on the block – not CSKA Moscow starlet Fedor Chalov, but an altogether different Russian bear.
Artem Dzyuba – a World Cup star – currently leads the line for Zenit Saint Petersburg. The 31-year-old veteran was observed by Palace's scouting network over the course over the international break, and it's not hard to see why.
He has notched an impressive 41 goals in 106 appearances on his tally, with domineering performances being replicated at the international level.
But what exactly can Dzyuba bring to Palace? After an abysmal 2019/20 season for Palace's strikers, Jordan Ayew's recent form certainly had Palace fans excited again.
Read Crystal Palace verdict
Despite playing in the Russian league, Dzyuba can inject a level of physicality that any of Europe's top flights would yearn to see. At 6 ft 5, Dzyuba is quite literally head and shoulders above some of Europe's key target men – think Harry Kane and Romelu Lukaku. Adjusting to Palace's preferred 4-3-3 or 4-4-2 systems of play would highly suit Dzyuba's own strengths as both a target man and finisher in front of goal.
His physicality also bodes well for Palace's set-piece strategies, with a strong intuitive ability to impose himself on an opposition's defence. His steely grit, tested thoroughly at international level, would match the demanding tests of the Premier League.
As much as the current skipper of SE25 has done a phenomenal job as a true leader in the dressing room, Dzyuba equally adds further leadership qualities wherever he goes. As the established captain of Zenit, expect Artem to be communicative and thorough in spearheading attacks.
His recent goal against Scotland proved crucial in a decisive Russian victory, placing them second in their group. His composure, physicality and ability to conjure moments that ensure defensive migraines would undoubtedly add immensely to Palace's striking needs, – and at a time where it could well be needed.
Admittedly, Palace also face the prospect of an ageing squad, with only one established first-team member being under the age of 25 – Max Meyer – and the squad is already saturated with experience. It is hard to see Dzyuba fitting into a long-term future in SE25, though he could nonetheless prove useful in the immediate few seasons to come.
In attempting to secure his services, Palace will need to stave off interest from the likes of Wolves and Everton, whose scouts were also impressed by Artem's recent performances. However, Palace by far lack the striking qualities and depth of their rivals and could certainly offer Dzyuba more of an opportunity to impress.
Evidently, his general prowess and long-run record means his conversion rate in front of goal is no mere flash in the pan. There is little reason why Dzyuba couldn't unseat Christian Benteke; after all, Dzyuba possesses the same preference for physical play.
The Eagles are looking to sharpen their talons. If they can secure Dzyuba's services, they'd be well on their way to doing just that – it just remains to be seen whether Palace fans are in for a Russian winter.
---