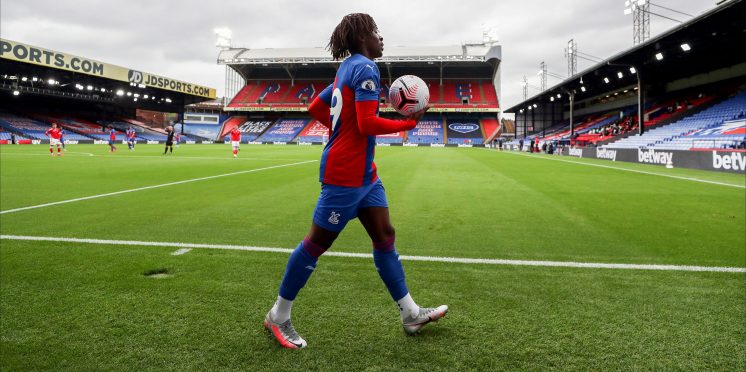 Eze can define the present and transform Crystal Palace's future
The cliché of 'Revolution at the Palace' is no stranger to being deployed when Crystal Palace make signals of intent in the transfer market – but Palace's latest addition more than justifies its use.
Friday morning saw fans of the Eagles wake up to the long-awaited news that QPR's creative maestro, Eberechi Eze, had put pen to paper on a five-year deal for the south London outfit. In doing so, Eze marked the most expensive signing during Roy Hodgson's tenure – which is now entering its fourth season – and garnered delight from the Palace fanbase.
The instantaneous jubilation of fans was more than merited; given that Palace managed a mere 31 goals across the entire squad over the course of the 2019/20 season, the need for an injection of creativity, goal threat and flair was abundantly obvious.
Whilst no player could realistically be expected to rectify on-field issues single-handedly, it is clear that Eze brings abilities that Palace have lacked in abundance. His 14 goals and 8 assists in the Championship are on par with the likes of Mason Mount and Dele Alli, who subsequently slotted into arguably the most competitive league in world football with graceful ease.
Twitter: It's Eze to disregard Eberechi because he's earned his great numbers in the @EFL.

But…

Dele Alli
League 1 2014:… https://t.co/WxiA7LjBAQ (@FIVE__YARDS)
As was previously reported, there is an indomitable level of cultural resonance with the Palace fanbase: Eze himself was born in Greenwich and is a south Londoner himself. His self-professed desire to play as an 'entertainer' in his interview with Crystal Palace, coupled with his flair and technically gifted style of play, forges a formidable mould for Eze to serve as a fan favourite for years to come. Indeed, even the teaser video for Eze's announcement alludes to his south London heritage – a fact that will surely chime beautifully with fans of a club bound to its locality.
Twitter: Made in south London.

#CPFC https://t.co/iioBGcXrPV (@CPFC)
Yet Eze's creative prowess and artful skills with the ball are merely superficial when compared to the wider significance of his arrival. For the first time across innumerable transfer windows, it is increasingly discernible that a form of philosophy is emerging within the corridors and boardrooms of Selhurst Park.
It is rare that clubs lack the foresight and wisdom to cultivate a long-term vision for a club's future. Whilst Palace are undoubtedly no exception, a spectre of pessimism had crept into the fanbase.
Without disrespecting the previous wave of arrivals in south London, the previous summer window gave little suggestion that the signings were destined for more meaningful, prolonged spells at the club; the likes of Gary Cahill, James McCarthy and Stephen Henderson were all players in their elder sporting years that plied their trade in saturated positions.
There can be little doubt that they have, at times, excelled for the club. Cahill in particular offered a renewed defensive fortitude to the squad and buoyed the team with his leadership skills and relentless drive. At 34, he still has plenty to offer to the Eagles – but how long will players of his age have left at the top level of English football?
By contrast, the arrival of Eze ushers in a new eon in futureproofing by the upper echelons of the Palace hierarchy. He fits the mould of players that have dominated the transfer speculation surrounding SE25: young, promising talent that can immediately challenge for starting XI spots, all whilst holding burgeoning potential to improve their skills and prove their abilities at the highest possible level. Palace's first summer signing, 19-year-old Nathan Ferguson, equally matches this crystallising transfer philosophy.
Furthering this, the potential re-sale value of young talents will inevitably serve as a boon to the Palace board. Given the deleterious financial consequences of potential relegation, the burden of debt and the exorbitance of lavish transfer spending that is typical of the Premier League, remaining competitive and remaining a top-flight club is an expensive business. Thus, the signing of Eze is a two-pronged attack on both the on-field staleness and off-field declining asset values that risk bedevilling the Eagles. Eze is as much a club liquidity boost as a bright young talent that can deliver entertaining football to SE25.
The length of the deal for Eze is no coincidence – it is testament to the emerging transfer philosophy of the club's summer recruitment plans. Investing in young, promising talent in order to rebuild the squad for the future is likely to be at the heart of the Eagles' transfer activity. In securing Eze down to a long-term contract, this only reinforces the desire to nurture both Eze's footballing talents with the club and to inflate his market value in a mutually beneficial partnership between club and player.
Given that current manager Roy Hodgson has only a year left on his present deal, Eze could represent a jewel in a managerial crown that not only extends to Hodgson himself but for successor(s) to come.
For Palace loyalists, consider Eze to represent the crest of an uncharacteristically powerful transfer wave over the course of the summer.
---