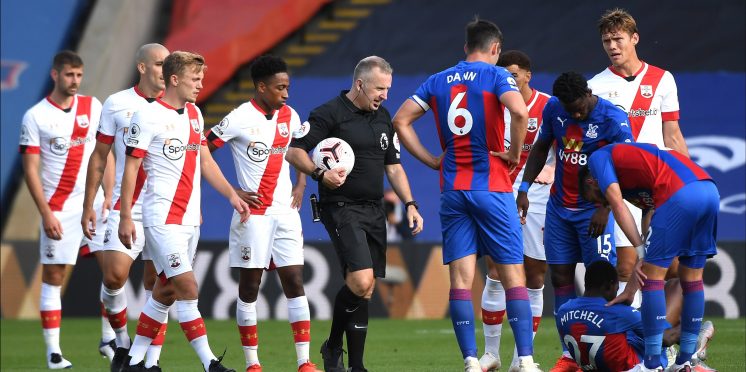 Five promising points as Palace beat Southampton
As the start of the 2020/21 Premier League dawned, so too did vital points of analysis for Crystal Palace as Roy Hodgson's Eagles edged a tense 1-0 win over Southampton on opening day.
With this summer's transfer window having represented an opportunity to rejuvenate and overhaul the squad, the arrivals of Nathan Ferguson, Michy Batshuayi and Eberechi Eze will go a long way in buoying the morale of the squad and of Palace fans alike. The window, of course, remains open, and Palace will surely look to bolster their numbers with further injections of young, prolific talents.
However, Saturday's convincing 1-0 victory will have served as the ultimate litmus test as to whether fans of the Eagles could truly feel as though the club had made positive moves – a test that fell in Palace's favour.
With that in mind, here are five key takeaways from Crystal Palace's win over their south coast Premier League rivals.
Tactical Turnaround
Following a run of abysmal form at the tail-end of the 19/20 season, including 7 defeats and a final-day draw against Tottenham, Palace fans will view this result as paramount to throwing off the shackles of the past as the Eagles look to build a positive run of form.
It should come as no surprise that, in addition to new personnel in the squad, Hodgson made some shrewd tactical tweaks that proved decisive in delivering victory.
Notably, Palace have opted for a 4-4-2 formation with talismanic forward Wilfried Zaha operating alongside 2019/20's hero Jordan Ayew as a centre-forward.
This crucial tweak enabled greater mobility and freedom for Zaha, with a reduced defensive burden. Both forwards showed a phenomenal work ethic both offensively and when tracking back, but the sole goal of the game from Zaha exemplified the success of this tweak.
This formation harks back to the football of days gone by at Selhurst Park, with this fluid 4-4-2 system being the preferred tactical setup when Roy Hodgson first took over in the Palace dugout in 2017.
Incidentally, Saturday marked three years to the day since Roy took charge at Crystal Palace. An anniversary to remember for the veteran tactician!
Fitness Fiasco
The turnaround between the end of 2019/20 and the start of the 2020/21 season was approximately six weeks, half of which was designated to players as a holiday period.
A de facto pre-season of just three weeks presented a seemingly unassailable problem for club staff across the league – and the issues showed at times.
Particularly as the game progressed, the later stages were marred by increased attacking opportunities as defences tired. Zaha was inches away from a legal second goal but was ruled offside after Southampton left exposed openings for the Eagles' forwards.
Palace equally had their own late frailties, with Guaita bailing out the Eagles with an array of impressive stops as the likes of Che Adams and Danny Ings were allowed multiple clear strikes at goal.
Defenders alone were not at fault for tiredness – both teams saw midfielders increasingly give away possession in a cagey and dynamic end to the Selhurst spectacle.
Abnormal tiredness alone was not the sole determinant for a change in play, but it is hard to convincingly argue that it did not contribute to an increased flow. The game will undoubtedly serve as a fitness boost and a learning curve to the sharpness of both sets of players.
Few Defenders? Few Problems
Palace have something of an injury crisis in defence, an area in which they are ordinarily well-stocked. Patrick van Aanholt, Mamadou Sakho, Gary Cahill and James Tomkins are some high-profile figures that have been kept on the side-lines by serious injury at the tail-end of last season – even Martin Kelly, who made the bench, is still lacking in match fitness.
Enter Cheikhou Kouyate: the Senegalese strongman is normally accustomed to playing a crucial role as a defensively orientated midfielder, but instead played as a centre-half in Palace's victory. There is a defined logic to this; Kouyate plays in this position internationally for Senegal.
The midfielder put in a fine display, looking assured and comfortable throughout the game. Joined in a successful partnership with Scott Dann and shot-stopper Vicente Guaita, keeping a clean sheet was almost too easy for a formidable and well-drilled defensive unit. A clean sheet was thoroughly deserved, in no small part thanks to Kouyate's diligence and leadership.
His subtle defensive prowess went under the radar somewhat, but the victory owed much to his robust, stalwart performance. Given the present defensive injury crisis, a Dann-Kouyate partnership looks readily reliable for the games ahead.
Eze Peasy
New signing Eberechi Eze arrived from QPR with high expectations from pundits and Palace fans alike, and his debut certainly provided some mouth-watering moments.
It was a double-sided debut for Eze, who made both his Premier League and his competitive Crystal Palace debut on Saturday. Coming on for Jeffrey Schlupp in the 81st minute, Eze instantly caught attention for his superb attacking runs as he effortlessly shimmied away from defenders.
His play was reminiscent of former Palace fan favourite Yannick Bolasie as he incisively injected further fluidity and freshness in the midst of tired players. Making a few good crosses, attacking runs, and showcasing a range of doughty dribbles, Eze made an instant impact on the game and provided a fine example of what he can add to Hodgson's Palace side.
It is impossible to make a fair assessment after only around 10 minutes of play, but Eze played with tremendous confidence and appeared to be an assured Premier League player.
The prospect of Eze linking up with Wilfried Zaha and Palace's striking options is one that should get football fans salivating across the board.
Some Change, Some Continuity
Owing in large part to a lack of match sharpness, Roy Hodgson preferred a tried and tested line-up with familiar faces in Andros Townsend, James McArthur and Jordan Ayew all playing pivotal roles in his system. Any irregularities were largely forced, though his tactical changes should be viewed more as a reversion to former glories than an innovation.
Despite only moderate change, one notable newer face was Tyrick Mitchell. Playing for the full 90 minutes, Mitchell put in a fantastic defensive display as he continues his run of Premier League starts.
Filling in for the injured Patrick van Aanholt, Mitchell looks to be providing strong competition at left-back. The academy product produced several key interceptions, managed vital clearances, and even showed confidence going forward in an error-free performance.
In his third Premier League start, Mitchell looks to be growing in stature and skill with every game as he looks to be truly integrated with the squad. He even revealed in a post-match interview that he is now in the first team squad's WhatsApp group – a signal of his acceptance and impact on the team's life in the Premier League.
With Patrick van Aanholt still ruled out, Mitchell is a hot prospect to keep an eye on. More performances in a similar vein to that of his against Southampton will undoubtedly boost Palace's defensive reliability as they look to conjure momentum for the season ahead.
---